2023 End of Year Showcase: Reshaping the Future
The two-hour event, free and open to the public, will feature Berkeley MEng and Fung Fellowship teams sharing the results of their team-based projects. This will be an interactive exposition. Teams will be showcasing their work either on a table top demo or poster format. This year we will be awarding Audience Appreciation Awards for both MEng and Fung Fellowship Projects! Light refreshments will be served.
Event Agenda:
4:30pm – Event Opens
4:40pm – Welcome remarks by student emcees, Thomas Guan, MEng '23 (ME) and Shreya Aviri FF '24 (Conservation + Innovation)
4:45pm – Opening remarks by College of Engineering Dean Tsu-Jae King Liu and Fung Institute Founder Coleman Fung
4:55pm – Student Project Expo opens
6:20pm – Awards
6:25pm – Closing remarks by Fung Institute Faculty Director Prof. Anthony D. Joseph
6:30pm – Event Closes
Why attend?
Reshape the Future.

Come celebrate the different ways students across our Institute are solving challenges facing society through interdisciplinary teams and collaborating with community and industry partners.

Networking.

Attendees from across industry and campus communities will come together with Berkeley students, faculty, and alumni while learning more about the latest innovations and social impact.

Industry-Wide Content

. Attendees have the opportunity to explore trends across multiple fields and concentrations within various industries –

healthcare, automotive, conservation, robotics, and more.

Personalized Experience.

Attendees can curate their event experience depending on interest. With more than 75 teams showcasing their work, there's something for everyone!
Date: Thursday, May 4, 2023
Time: 4:30-6:30pm PT
Location: Mudd Hall (1798 Scenic Avenue)
Innovation Award (Conservation)
This Innovation Award honors the project who has most effectively demonstrated: (1) the relevance of the problem they are trying to solve; (2) the originality of their proposed solution; (3) and the potential and applicability of their project's impact.
AquaLearn
Nohea Rodriguez, Jenna Braun, Amada Tsang, Christina Pham, Anny Moreira
Human-Centered Design Award (Health)
The Human-Centered Design Award recognizes a project team that has demonstrated: (1) human-centered design principles to create solutions that are intuitive, accessible, and engaging for the target audience; (2) understanding of the users' needs and experiences and integrated their feedback proactively and meaningfully.
RenalReach: A Personalized Digital Health Tool for Potential Kidney Donor Waitlist Candidates
Victor Le, Madeeha Khan, Lauren Clawson, Liv Rainville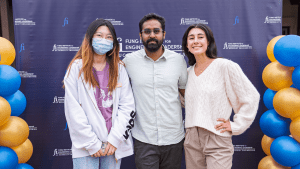 Mission Award (Honors)
This Mission Award honors the project team who has exemplified the mission of the fellowship "by advancing impactful to solve real world challenges through innovation, technology, and inclusive collaboration across communities.
Designing a Tablet Housing for Marine Megafauna Research
Laura Lira, Chang Bo; MEng collaborators: Henry Warder, Zhuoli Shu, Suhaib Khadar, and Antoine Gueguen
Audience Appreciation Award
This Audience Appreciation Award honors the team whose project is well conceptualized and designed including features that are intentional, based on user feedback and feasible for the organization. This team demonstrated exceptional customer engagement and opportunity for social impact.
Thriving Pink: Journey Mapping
Tess U-Vongcharoen, Sofia Valenzuela, Jenny Lu, Frida Calvo Huerta, Norma Garcia
---
We cannot guarantee that all guests attending the event have been vaccinated. Please review current UC Berkeley COVID-19 policies and resources. This information may be updated at any time and changes to local and state health regulations may alter event plans.
If you require an accommodation for effective communication (ASL interpreting/CART captioning, alternative media formats, etc.), please reach out to Jené Madison at jmadison@berkeley.edu by Friday, April 28.